Candidate for B.A. in Biology, English 2017
Name
: Oliv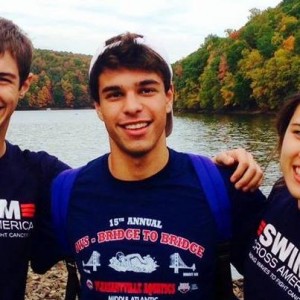 er Goodman.
Hometown: Philadelphia, Pennsylvania.
Major(s): Biology; English, Certificate in Creative Writing.
Interests: Hiking, skiing, swimming, cyanobacteria, etc.
Projects I'm on: Invisible Life: Death Valley; Popular Science Writing.
About me: Oliver Goodman hails from a row home in central Philadelphia, where he grew up tormenting his parents with his two sisters, Rachel and Molly, with pranks, booby-traps, and most notably, bringing home every puppy he and his siblings could get their hands on.
This past summer, Oliver worked as a U.S. Park Ranger at Glacier National Park and hopes to return to Montana as soon as he can.
Oliver's golden retriever, Freddy, joined him early during his sophomore year of college and remains by his side nearly 24/7 – even sometimes attending science lectures. In addition to Freddy, Oliver's big sister's golden, Trevor is also very found of going to classes, and never seems to trail too far behind him.